By Crowley.
(JACKSONVILLE, Fla.; Dec. 14, 2022) ­– Massachusetts Maritime Academy cadets Jacquelyn Damery and Joshua-Ryan McFaddin have been awarded Crowley's Thomas B. Crowley Sr. Memorial Scholarships. Each recipient is recognized for their overall individual success and their desire to pursue a career in the maritime industry. As recipients, the cadets exemplify Crowley's values of drive, integrity and sustainability through their achievements and terms aboard Crowley-owned or -managed vessels.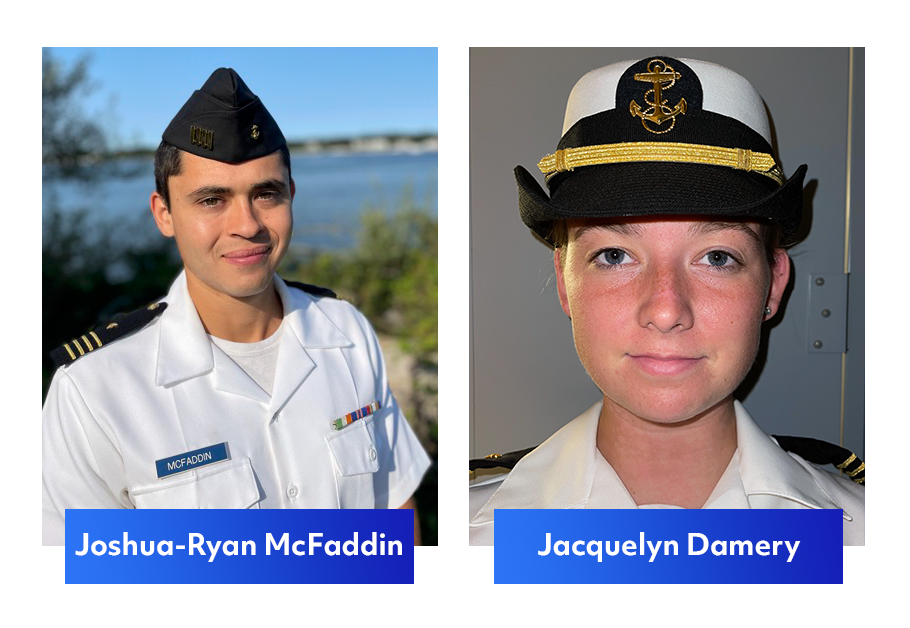 A senior from Plympton, Massachusetts, Damery is studying for a bachelor's degree in marine engineering. Active throughout her academic career, Damery has served as a squad leader and executive officer for the academy's Fourth Company. She also served as 2nd rate in charge of shipboard hotel utilities aboard the TS Kennedy. Damery completed 62 days aboard Crowley's tanker MT Louisiana, fulfilling her cadet shipping term requirements. After graduation, Damery plans to continue her maritime career with her ultimate goal of becoming a chief engineer.
McFaddin, a senior from Wasilla, Alaska, is pursuing a bachelor's degree in marine transportation. During his academic career, McFaddin has served as hold captain on the TS Kennedy, requiring working knowledge of its fire and safety equipment. He also serves as a division leader, being responsible for underclassmen aboard the vessel, including mentorship and discipline. McFaddin sailed aboard the Crowley-managed tankers MV American Freedom and MV Magnolia State to complete his sea term and tankerman person in charge (PIC) endorsement. Upon graduation, he looks forward to sailing on U.S. domestic maritime industry vessels and to starting business in the maritime industry.
Since 1984, Crowley has provided more than $3 million dollars in financial assistance to more than 1,000 students studying at maritime academies and other select schools in the United States mainland, Puerto Rico and Central America.
Source: Crowley
Crowley is a privately held, U.S.-owned and -operated maritime, energy and logistics solutions company serving commercial and government sectors with more than $2.9 billion in annual revenues, over 170 vessels mostly in the Jones Act fleet and approximately 7,000 employees around the world – employing more U.S. mariners than any other company. The Crowley enterprise has invested more than $3 billion in maritime transport, which is the backbone of global trade and the global economy. As a global ship owner-operator and services provider with more than 130 years of innovation and a commitment to sustainability, the company serves customers in 36 nations and island territories through five business units: Crowley Logistics, Crowley Shipping, Crowley Solutions, Crowley Wind Services and Crowley Fuels. Additional information about Crowley, its business units and subsidiaries can be found at www.crowley.com.